Greetings,
Think Evolution not Resolution! Instead of starting your New Year by making traditional absolute resolutions that might not be realistic or sustainable, 'gonna do this, should do that,' why don't you envision a lifestyle that revolves around the enjoyment of your family, friends, exercise, food, work and travel.
A tenet of our philosophy is that there is no "one-size fits all" formula for a perfect Life-Work balance. Life changes day to day depending upon our responsibilities and priorities. Our ideal balance will be different whether we are single or married, have children, choose a particular career path or are in retirement. A snapshot of life in our 20s offers a glimpse of what is ahead, while in our 40s we're smack dab in the middle of life with choices made or thrust upon us. When we reach our 60s and beyond, we can see how far we've come. The first step in your personal evolutionary process begins with your mental attitude to be psychologically ready – to be open to a lively and interactive conversation about personal change and commitment.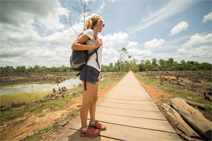 Get Support! Our six-month Wellness Coaching Program guides and supports you to reach your goals by making changes to your lifestyle at a pace that is comfortable and long lasting for you. During this time, we will create your Personal Wellness toolbox and an incremental step-by-step plan with access to personalized tools for a healthy lifestyle. Sign up for a free one-hour consultation that explores your health history, health goals, current diet, exercise, stress, lifestyle and what you imagine for your life. We will work together closely, getting a better feel of our working style. To get started, e-mail BeyondtheBridge@verizon.net or call (917) 837-3652 to make an appointment.
As a Baby Boomer who believes that we all can improve with time, I also acknowledge that we get out of life what we put into it, whether it's how we treat each other or how we treat ourselves. Read my Personal Story to understand how I was inspired to blend my successful business background with my wellness philosophy for the whole body http://www.beyondthebridge.com/about/personal-story/.
May your days be filled with Love, Happiness, Kindness and an Evolutionary New Year!
Breathe deeply, Walk daily and Smile!
With Love, Peace and Light,
Linda Shields, Founder