Greetings,
Last month was National Heart Month, highlighting the importance of a healthy physical heart while bringing awareness to the many benefits of a Healthy Lifestyle that includes Exercise, Nutrition, Relationships, Productivity and for many, Spirituality. The emotional heart plays an important role in essential well-being, since the heart is a symbol of our emotions. We have all from time to time experienced life circumstances that have affected our heart emotionally such as a broken heart, loss of a loved one, anxiety and loneliness that can lead to emotional upheaval and stress.
"Research does not firmly link stress and heart disease, but there's a growing belief that it's an additional risk factor, and maybe even more dangerous than some others, said Nieca Goldberg, M.D., medical director for the Joan H. Tisch Center for Women's Health at NYU's Langone Medical Center." (American Heart Association Website)
Soothe your Emotional Heart with these simple breath exercises:
Seated Spinal Flexes
Spend a few minutes gently and slowly warming up the spine and opening up the physical body with some seated spinal flexes. Begin seated in a chair; rest hands on thighs and keep head in a stable position (not moving up or down). This exercise aids in opening the chest and emotional heart center, and will prepare you for the following breath exercise. Inhale (nose) as you arch your back by flexing your spine forward, leading with your heart as you lift and open your chest. Exhale (nose) as you round your back. 1- 3 minutes.
Breath Exercise to soothe the Emotional Heart
Position hands at heart level in Lotus Mudra; the Lotus flower symbolizes a pure and open Heart. Breathe slowly. Inhale slowly through mouth sounding like 'Whewwwww'. Pause momentarily. Exhale slowly whispering softly 'Laaaaaaa'. Over time, this meditative breath taps into the Parasympathetic Nervous System, activating a relaxation response. 1 – 3 minutes.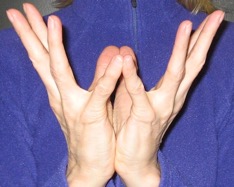 In honor of National Nutrition month, Beyond the Bridge is pleased to announce the addition of Nutrition and Nourishment to our Wellness Coaching. We continue to be a bridge for our clients to make informed healthy choices in their lives. Stay tuned for details in our next Newsletter.
May your days be filled with Love, Health, Happiness, Laughter and an Open Heart!
Breathe deeply, Walk daily and Smile!
With Love, Peace and Light,
Linda Shields, Founder