Greetings,
Life is so much more than nutrition for our physical body – what invigorates us does not always come on a plate. Yet, what and how we eat can at times signal imbalances in other areas. For instance, a food craving can indicate something that our body needs in nutrients or something on a deeper level that is lacking in our lifestyle, whether it's being dissatisfied in a personal or work relationship, too much or too little exercise, comfort during a stressful situation or just being plain bored. This realization can be a catalyst that leads to action for our personal development and goal setting.
Let's visualize the Rainbow Effect – live, dream, eat in color! Real food from nature comes in every color of the rainbow. Enjoying good company with your meals adds an emotional benefit as you combine it with healthy eating. Remember, big picture goals begin with smaller manageable goals.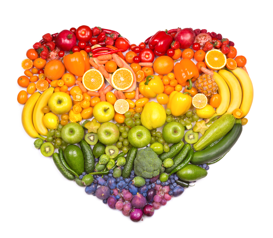 Our coaching methods specialize in the individual, whether in a corporate workshop or a private session, acknowledging that everyone is unique and there is no 'one-size fits all' formula. We like to 'keep it simple' and help you create your best experience. In our Healthy Lifestyle Program, we combine personalized health techniques with whole body nutrition and nourishment. With the additional benefit of our strong and successful business background and unique skill set, we guide and support you to build your own bridge towards well-being by making informed healthy choices and behavior changes that are sustainable. Whether it relates to stress, food, exercise, relationships, time-management or career development – creating and having access to your Personal Wellness Toolbox can help you move toward living a healthy and balanced lifestyle for the long-term.
May your days be filled with Love, Happiness, Kindness and a Colorful Lifestyle!
Breathe deeply, Walk daily and Smile!
With Love, Peace and Light,
Linda Shields, Founder